Minnesota Twins
are the pro baseball team in Minneapolis. We combined design, storytelling and technology to increase ticket sales.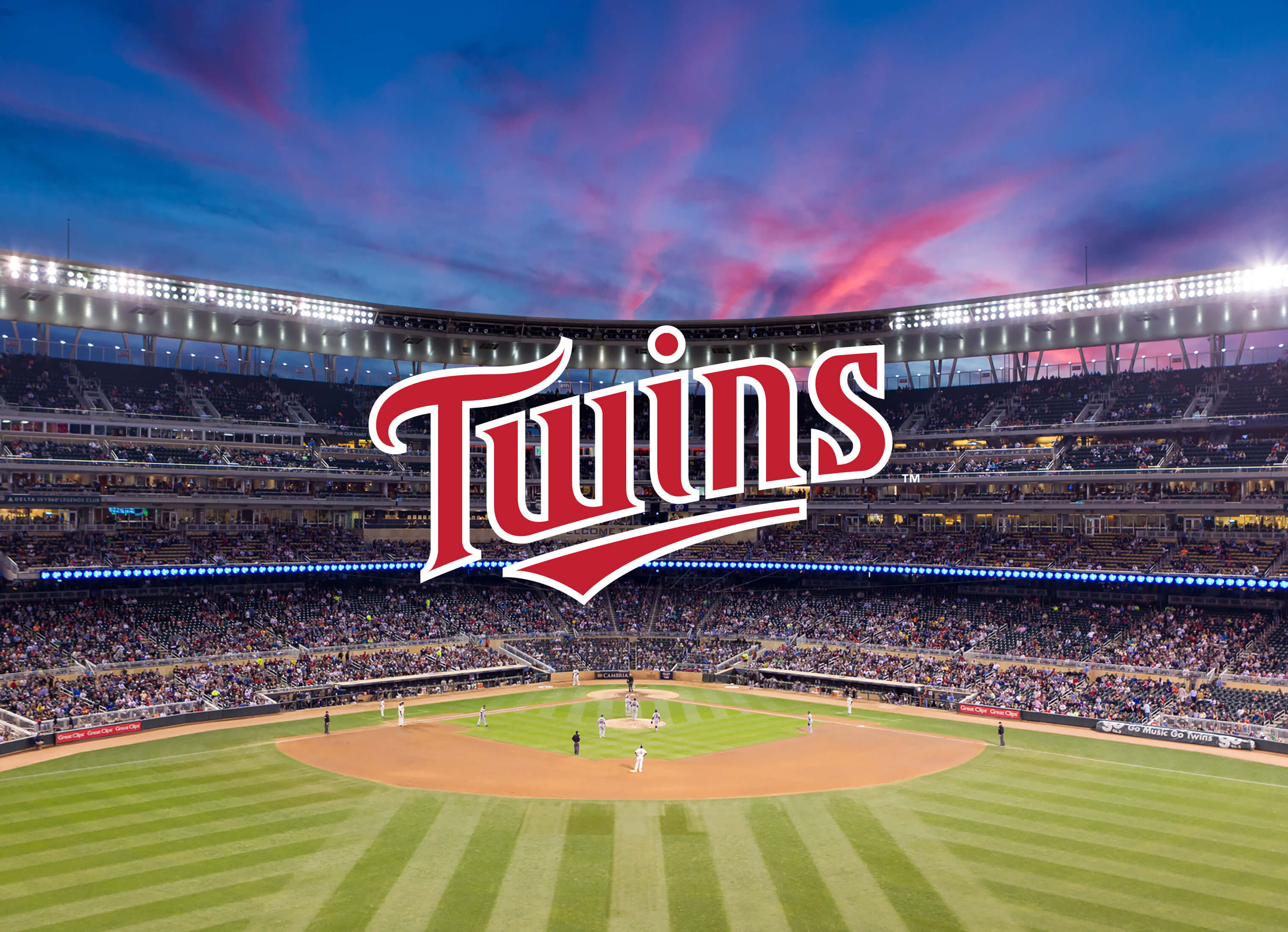 Fig 1.0
GOING DIGITAL
The Twins would target current season-ticket holders annually with a printed/mailed brochure reminding them to renew their tickets. We recommended converting that print piece to a digital experience instead. We partnered with the Twins to create a rich digital experience that could reach more than the physical addresses of 14,000 season ticket holders. With a digital experience they now have a limitless reach. By going digital, the Twins gained the ability to have contextual content for individuals & groups as well as analytics from website traffic to show efficacy of the messaging used and dollars spent.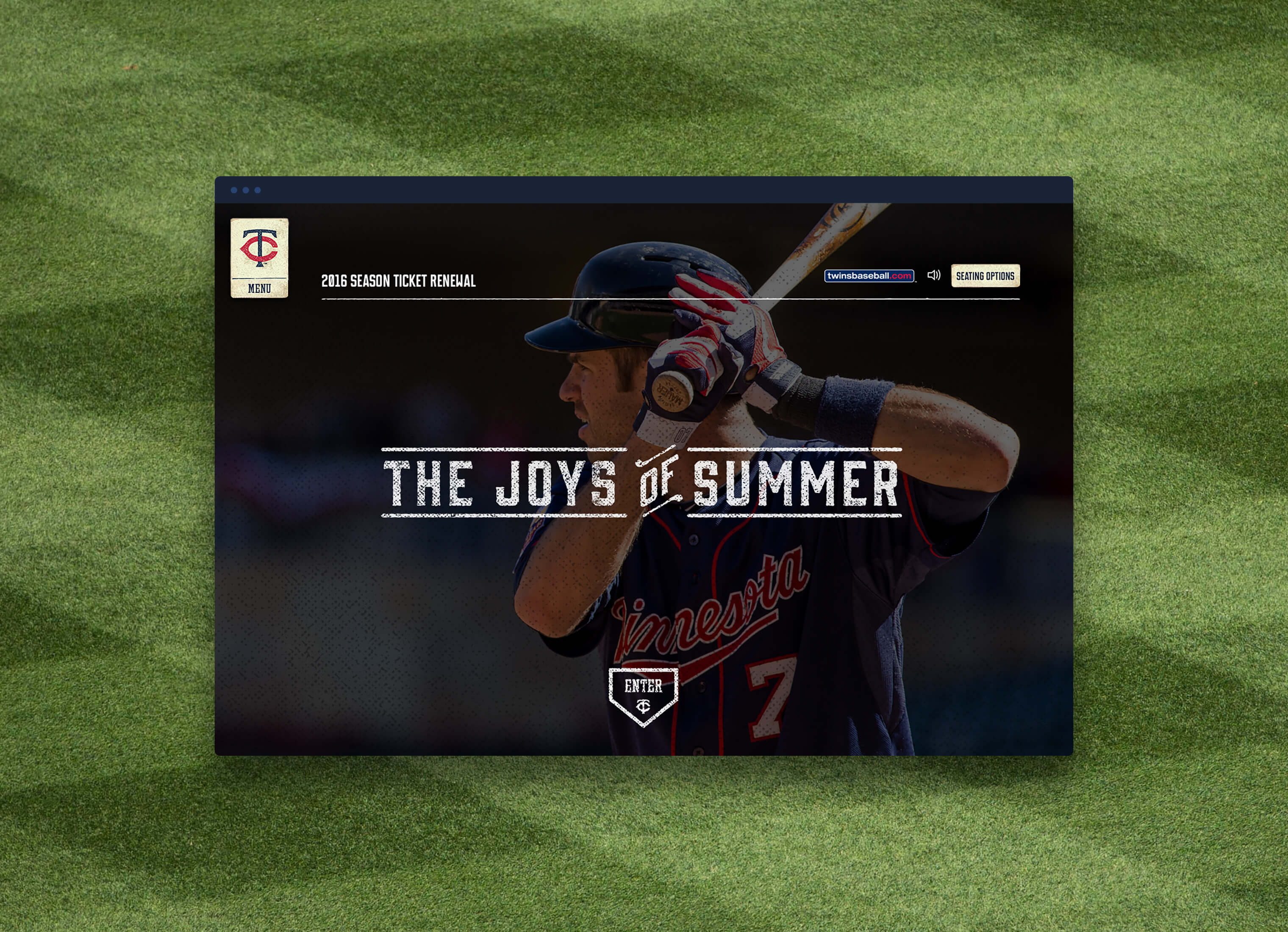 Fig 2.0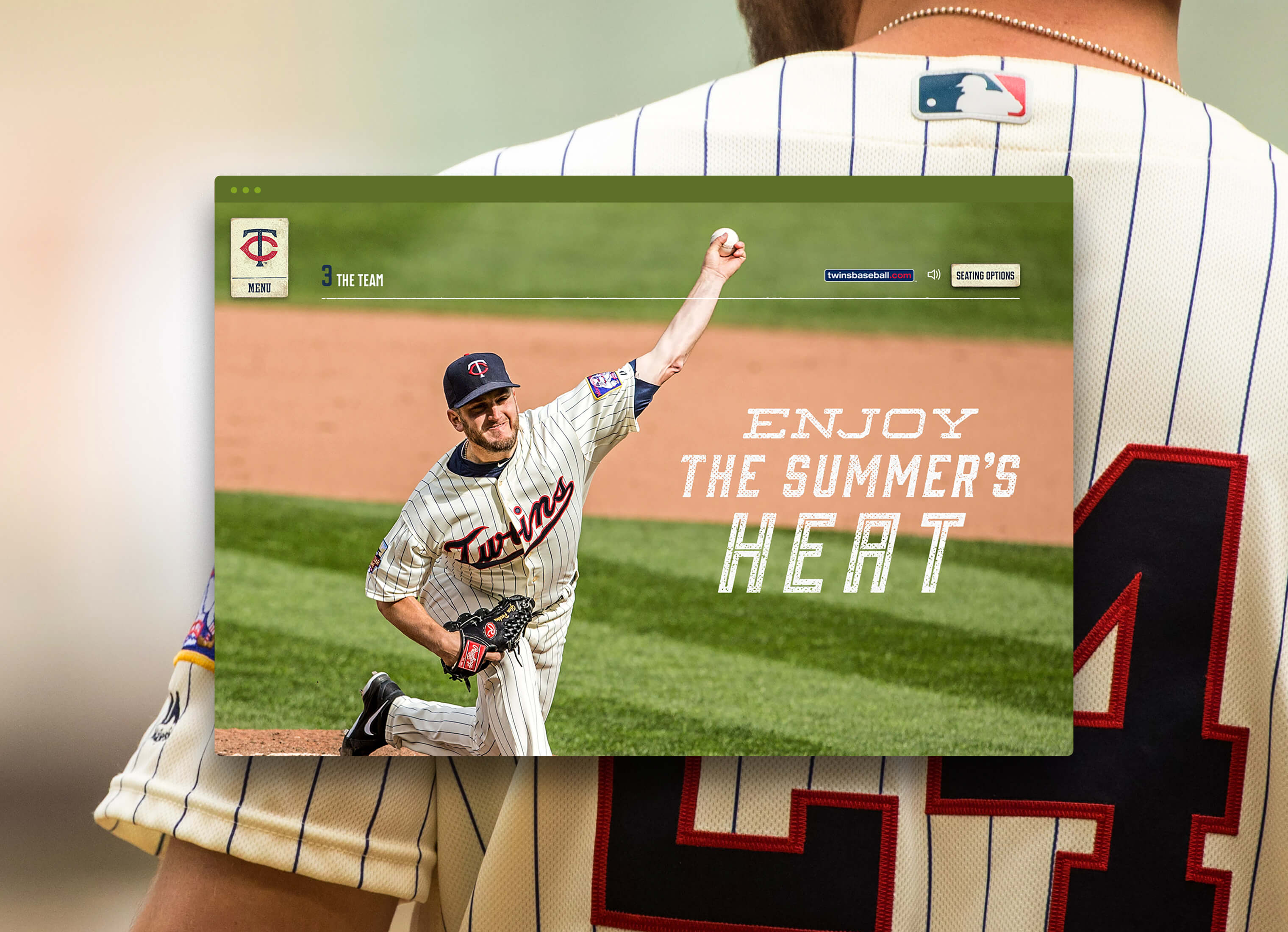 Fig 3.0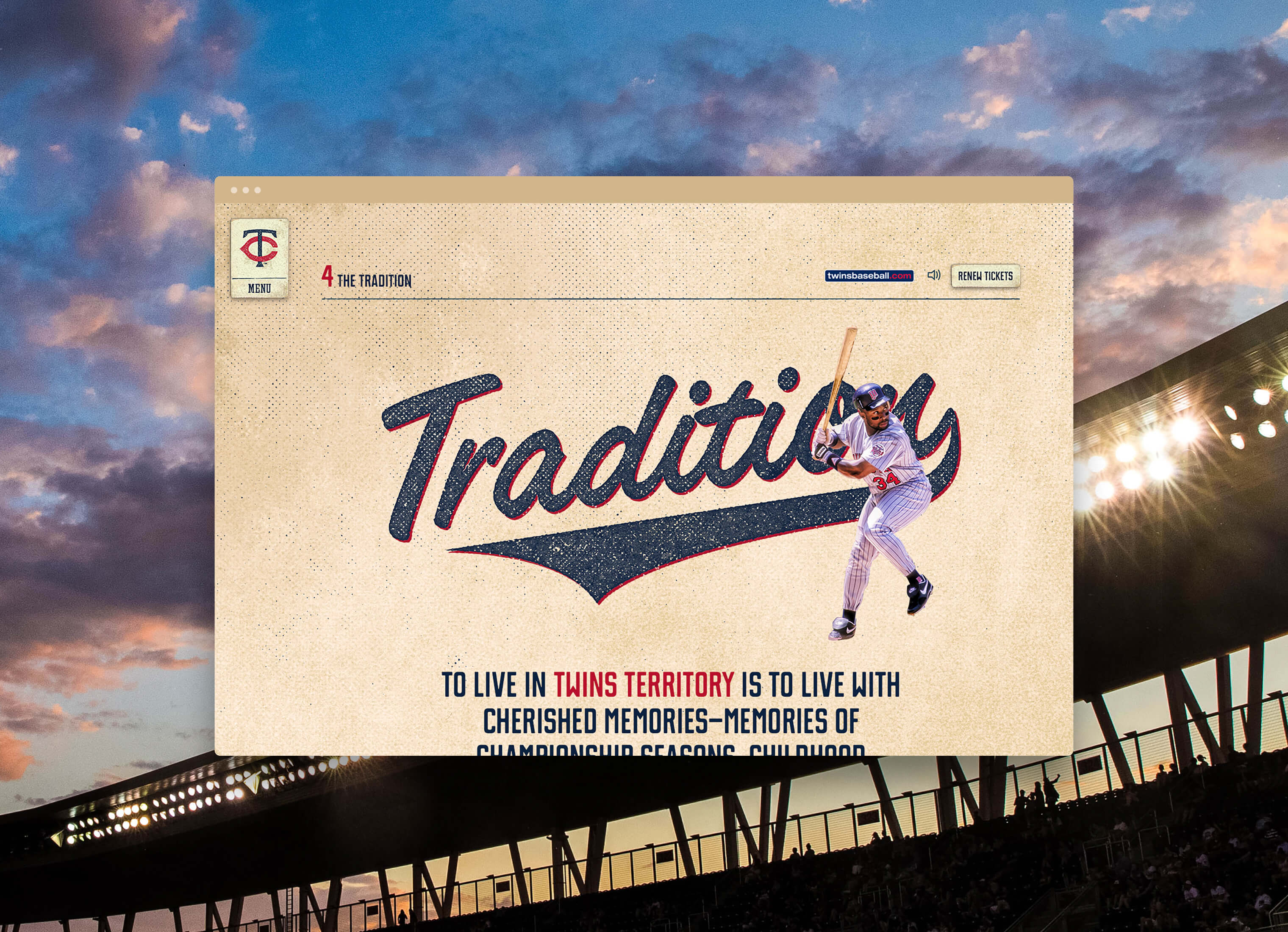 Fig 4.0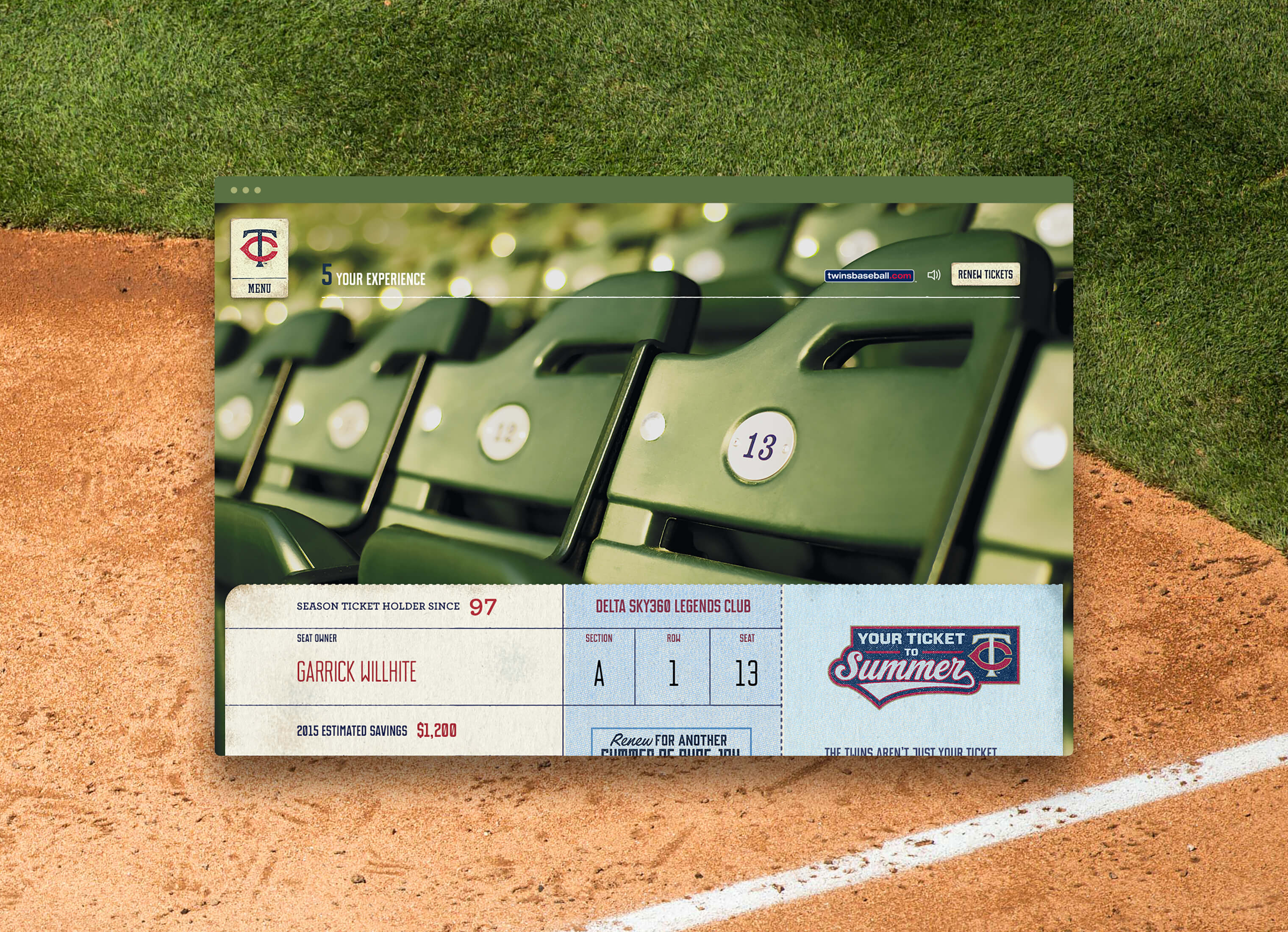 Fig 5.0
PERFORMANCE
The site was overwhelmingly successful. It boasted a less-than 10% bounce rate, almost 4:00 minute site visit duration and an impressive 74% conversation rate. Not only were the Twins able to target season ticket holders for renewal, they were also able to swap out content that catered to audience segmentation through specific media targeting. We could change content based on entry URLs, to deliver unique storytelling content in context to the targeted audience or individual.
VISUAL DIRECTION
Leading into the 2017 baseball season, we helped create a new visual design language for the Twins. This included a duotone visual approach to create imagery that was highly graphical. The design was later applied to scoreboard graphics, tickets, packaging and team branded applications for the year.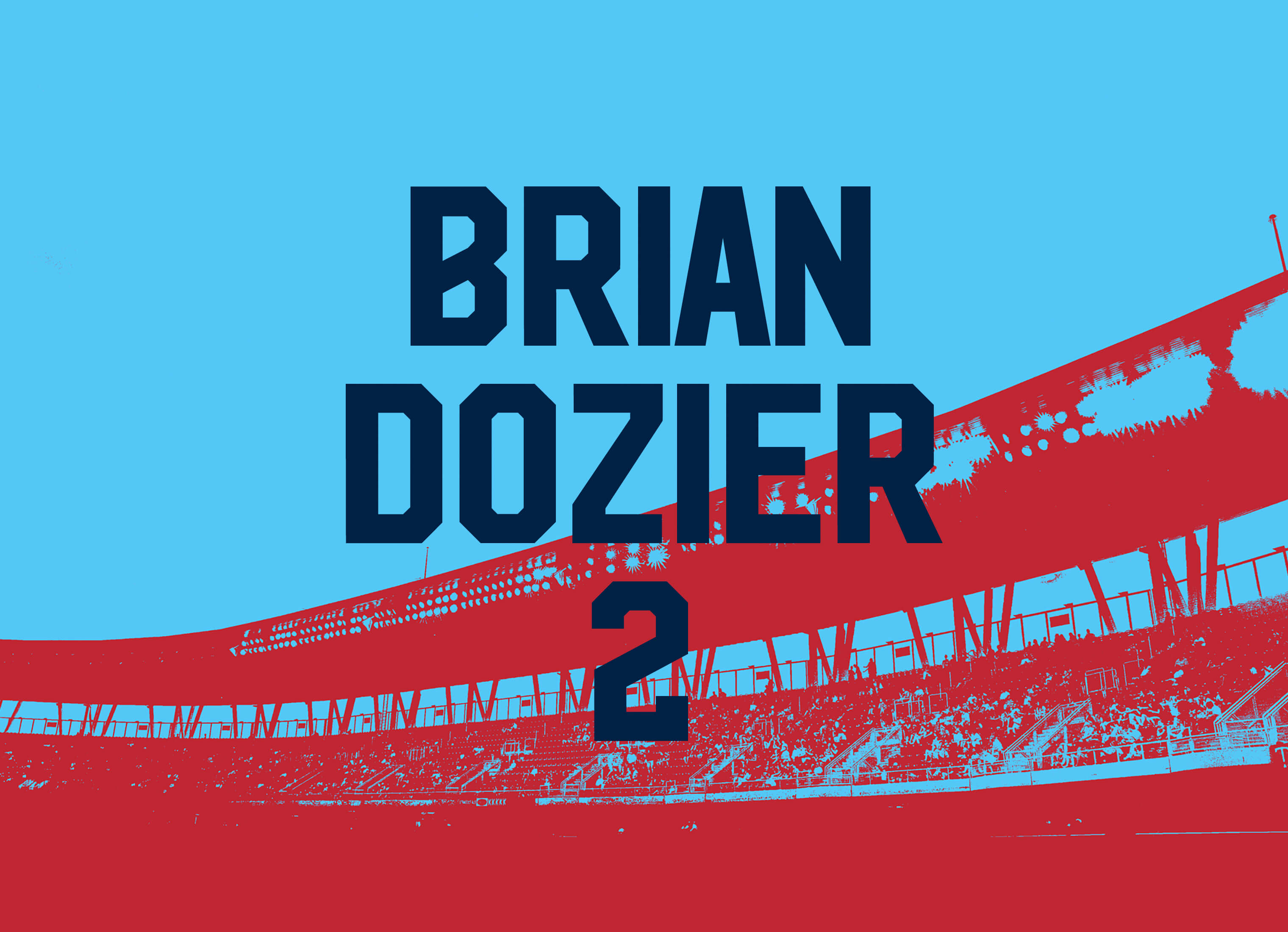 Fig 6.0
TICKET BOX
As a part of the 2017 visual direction update, we designed the ticket boxes for the upcoming year. The boxes come in various sizes based on the season ticket holder's plan.
Skills
Strategy

User Research

Visual Design System

UI/UX Design

Technology Advisement

Fullstack Development

Package Design

Beer Drinking @Target Field
Details
Team
Garrick Willhite

Josh Vadnais

Jesse Bodell (Periscope)

Jake Lancaster (Periscope)

Nikki Meyers (Periscope)

Sean Lien (Periscope)
Client
Minnesota Twins / Periscope
Project
Season Ticket Renewal Website & Ticket Box Designs
Featured
The Clio's, Print, HOW, AIGA, The Webby's