Minnesota Twins
are the pro baseball team in Minneapolis. We designed a live AR app to enhance games and events at Target Field.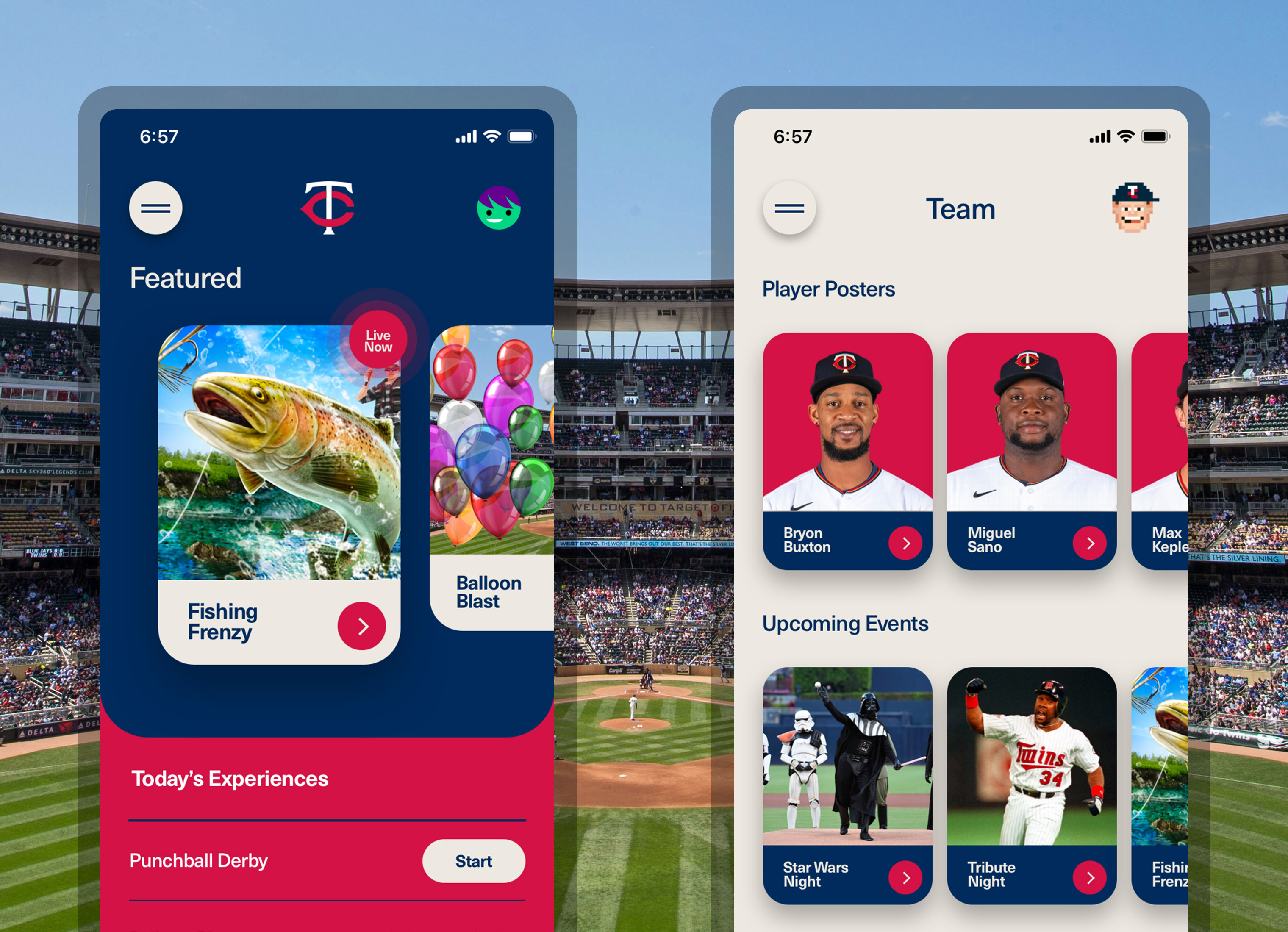 LIVE EVENTS AR
Live events are a great environment to pair with AR (augmented reality) experiences layered on top of them. ARound, a startup that focuses on live event AR, teamed up with Object to create an app for the Minnesota Twins – Twins AR. The app is hopefully set to launch in 2022, pending the MLB lockout.
During games and events at Target Field, fans can use their phones and experience live AR. The Twins AR app has games, team and player interactions, and AR effects that people can interact with each other or amongst themselves. There is so much down time in-between sports action and innings, that this gives fans an additional element of entertainment. For the Twins, it allows them to fill this void with a way to interact with the team through AR. This added element is meant to keep fans engaged and also build more affinity for the overall baseball experience at Target Field.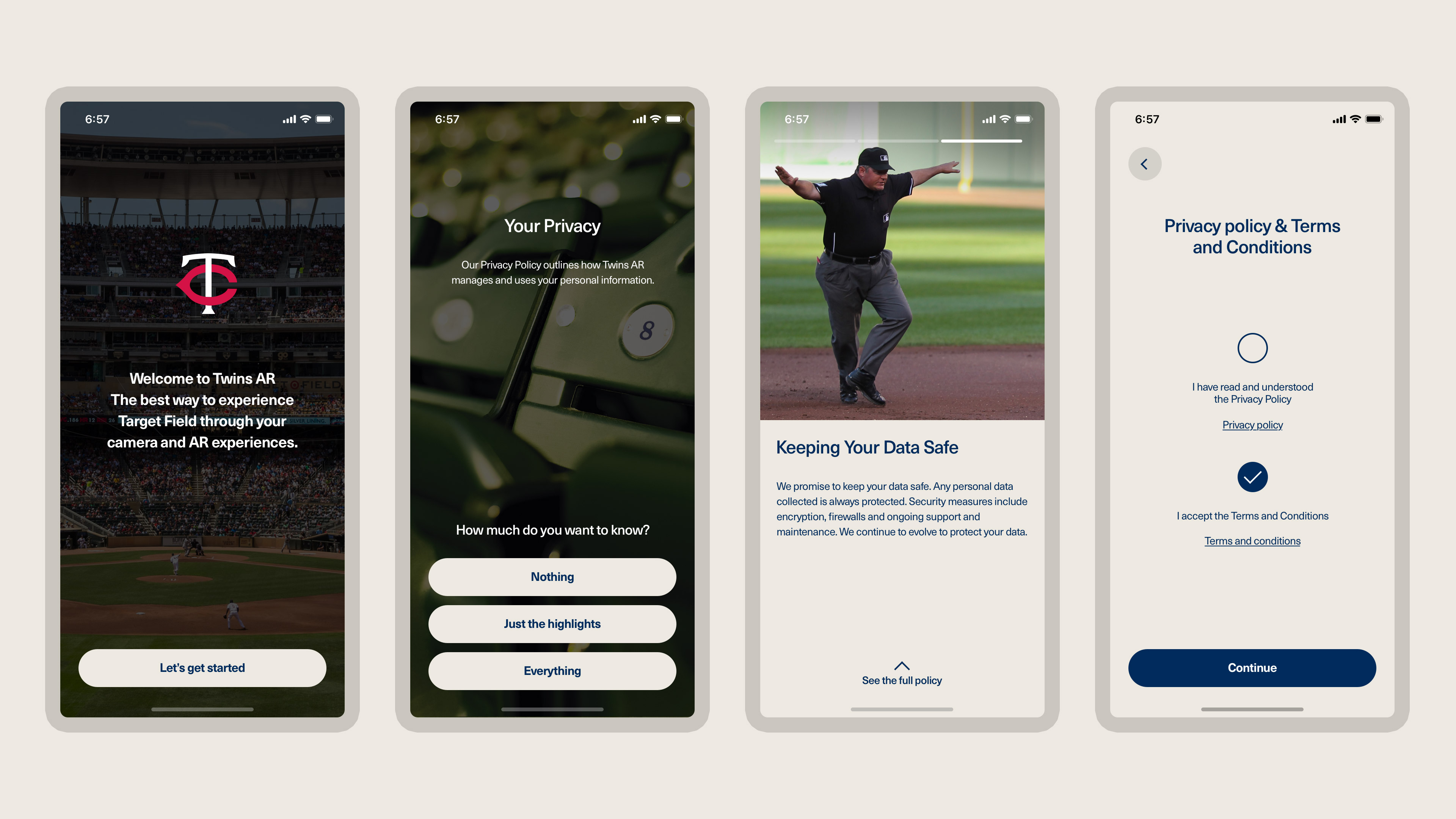 APP PRIVACY
One of the core beliefs from ARound is maintaining privacy. We designed a solution that would add some transparency in what data is being collected and why. The privacy screens interact like an Instagram story where a person can quickly get the highlights of the privacy policy.
AR GAMING
Fans can open the app and interact with each other through live AR effects or challenge each other to games. There are several games created by the ARound team. There is a leaderboard to help incentivize participation through competition. Leaderboard winners have the potential to earn achievements or rewards from the Twins.
EDITING YOUR PROFILE
When you first open the app you are assigned a username and avatar. The default avatars are cartoon-ish faces in bright colors. You can select any of the faces or select one of the 8-bit Twins player faces. If you create an account, you have access to more avatars like animal faces or unlocking former Twin heroes.
SHARING WITH FRIENDS
Once you've created an account you can now add friends for peer-to-peer interactions with AR effects or challenge them to a game. As you compete against your friends for high scores, we also included ways to share achievements and to help promote adoption of the app by inviting your friends to get the app.
EARNING ACHIEVEMENTS
Fans have the chance to earn achievements either through AR gaming or through interacting with the app. In addition to a leaderboard, fans can earn achievements through attendance and other AR engagements.
CREATING AN ACCOUNT
To use the Twins AR app, a user does not need an account to get started. In order to make certain changes to your avatar or to interact with friends you do need to create an account. This process is either done through email verification or signing in with popular 3rd party integrations.
LIVE AR EXPERIENCES
Above are some live AR examples created by the ARound team. The various experiences with AR include: games, effects, player cards, and special events. The app can include AR interactions specifically tied to themed or sponsored game and event nights for an enhanced and integrated experience.
DESIGN SYSTEM
The design system was created to be adaptable to future MLB teams. The color palette is codified to align with other team colors by having a set of colors assigned to Lights, Darks, and Accent colors. Each value when entered then populates the UI system. While the launch of the app for the Twins will be the first ARound integration of AR with the MLB, the goal is to expand the app to other teams and new capabilities over the season.
Skills
Digital Strategy

UX Design

UI Design

Illustrations

Branding

Content Development & Writing

AR Content Discovery

Homer Hanky Waiving
Details
Team
Garrick Willhite

Bryn Bundlie

Josh Beatty (ARound)

Raven Zachary (ARound)

Dustin Maertz (ARound)
Featured
Forbes, Ad Age, Sports Business Journal, AR/VR Magazine, VRScout